Parts of the occupation are located on the planned route of the A49 in Dannenröder forest between the towns of Lehrbach and Dannenrod (see map below).
A description of how to get there by train and bicycle can be found below.
If you'd like to come by and need infomartion about the current situation, you are welcome to contact us on the forestphone +491636282203
There is a vigil at the sports field in Dannenrod mahnwache-dannenröderforst.de. There you will find more information about the paths and the current situation:

Sportplatz Dannenrod: Zur Waldecke, 35315 Homberg (Ohm)
GPS: 50.762276, 9.030263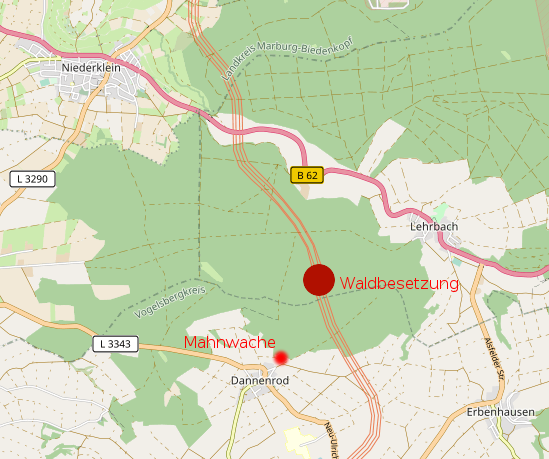 Mahnwache = vigil; Waldbesetzung = forest occupation
Directions for public bus
The Homberg (Ohm)-Dannenrod bus stop is two minutes' walk from the Mahnwache andanother bus stop Kirtorf-Lehrbach Ortsmitte (town centre) is located on the north-eastern side of the forest.
Directions for train and bicycle
If you want to come by train and bike, you may take the train to "Stadtallendorf". Take the exit to the left (signposted "Niederkleiner Straße") and follow the big street at the station exit (Niederkleiner Str.) to the left until the end of the village. At the end of the village take the cycling path on the left side of the road, and follow the path until you reach Niederklein. In Niederklein you will find a path to the field path, which then goes straight through the forest as a forest path (see detailed map of Niederklein below). If you follow this forest road, you'll come across a country road, on which you turn left again and which leads to Dannenrod. In Dannenrod turn left again up to the sports field and the edge of the forest. The journey approx. takes between 30 and 40 minutes.